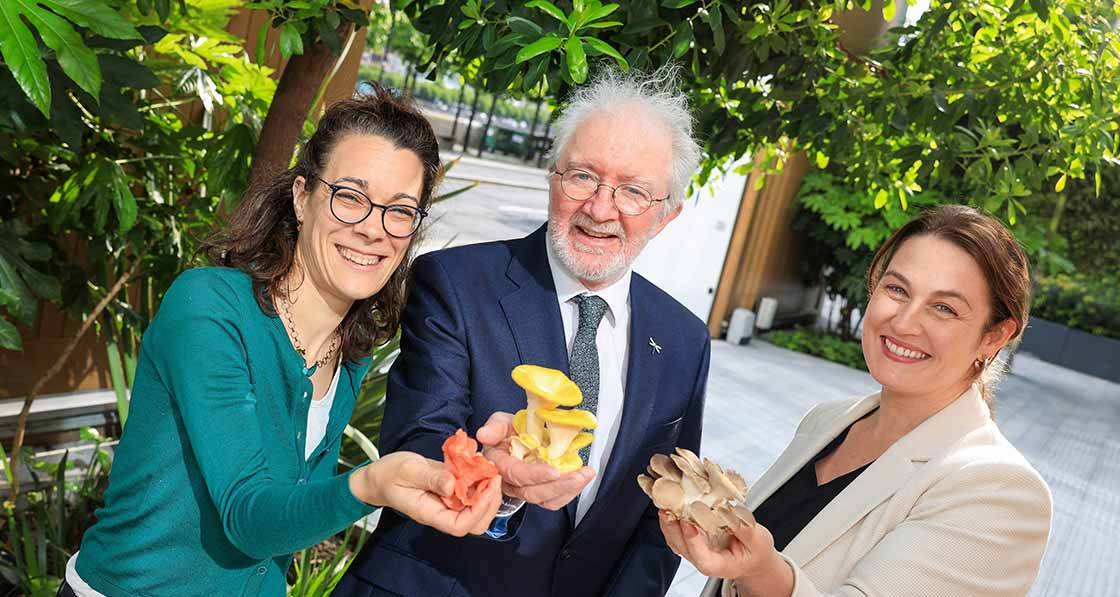 Pictured are (left to right) IGBC head of policy and advocacy Marion Jammet, heritage minister Malcolm Noonan, and CoP chair and Cluid Housing national sustainability manager Susan Vickers.

News Desk
IGBC launches biodiversity building professionals network
The Irish Green Building Council (IGBC) has launched a new Community of Practice (CoP) on biodiversity and the built environment.
This article was originally published in issue 45 of Passive House Plus magazine. Want immediate access to all back issues and exclusive extra content? Click here to subscribe for as little as €15, or click here to receive the next issue free of charge
The CoP is a networking group for building professionals and property managers working on biodiversity and the built environment in Ireland. Its objective is to provide a forum for industry leaders to share information on challenges and best practices, and to learn from each other. Members of the group include architects, developers, ecologists, engineers, investors, planners, property managers and representatives from local authorities.
Speaking at a launch event for the CoP, heritage minister Malcom Noonan – whose brief includes biodiversity – said: "The findings of the Citizens' Assembly on biodiversity loss are clear: We must all do more to protect nature. I am delighted to see the IGBC bringing together this group of leading building and property professionals to address this issue in the construction industry. I hope that the factsheet launched today will empower everyone in this sector to take concrete steps towards protecting and enhancing nature."
The factsheet launched on biodiversity and the built environment offers useful insights to those working in the construction and property industry on what can be done to help nature thriving in the built environment, and in doing so address the climate crisis. The launch of the document follows a successful webinar series, where experts showcased solutions and tools, and shared best practice to protect biodiversity when designing, constructing, renovating, or using buildings.
CoP chair Susan Vickers said: "As a sector, there is so much we can do to better protect and enhance biodiversity and play our part in Ireland's Climate Action Plan, and in doing so improve people's quality of life. I am looking forward to working with all members of the Community of Practice, to learn from each other and to start making a meaningful impact in our field".
The construction and built environment is a carbon and resource intensive sector, with a significant impact on biodiversity. These impacts happen both on-site and offsite, and result from land-use changes, pollution, climate change and the introduction of invasive alien species. However, when properly planned, designed, and maintained the built environment can protect and enhance nature, while improving people's health & wellbeing.
IGBC head of policy and advocacy Marion Jammet said: "With 400,000 homes to be delivered in the next decade, it is imperative for our industry to embrace the biodiversity challenge. We must plan, design, build and renovate homes to protect and enhance nature in Ireland and further afield. I hope that the factsheet and the collaborative efforts of the Community of Practice will help everyone in this transition."
For more information visit www.igbc.ie.