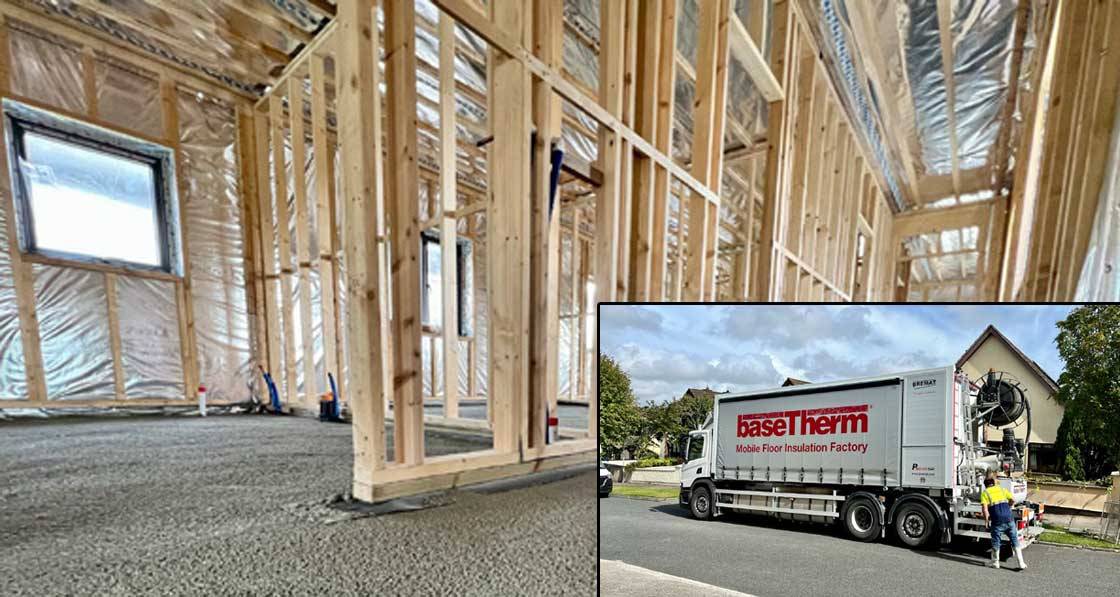 BaseTherm liquid floor insulation system, which is now NSAI Agrément certified.

News Desk
BaseTherm liquid floor insulation gets Agrément cert
BaseTherm, a liquid floor
insulation
system produced and installed using a mobile floor insulation factory, has gained NSAI Agrément certification.
This article was originally published in issue 43 of Passive House Plus magazine. Want immediate access to all back issues and exclusive extra content? Click here to subscribe for as little as €15, or click here to receive the next issue free of charge
The product, which also has an Environmental Product Declaration (EPD), is used as a thermally insulating, non-structural, bound expanding polystyrene system (BEPS), which can contribute to the thermal and acoustic performance of floors in either new or existing buildings. Pumpable and lightweight, it's a thermal and insulating screed mortar consisting of EPS beads, fast drying cements and Iso- Star proprietary additive. Mixed on site using a purpose-built mobile floor insulation factory, it meets the requirements of IS EN 16025-1 and IS EN 16025-2.
BaseTherm is suitable for internal application to ground-supported and suspended floors in existing and new domestic and non-domestic building applications. BaseTherm has been developed using IsoStar and Enginy certified technology, together with Cavan-based EPS bead manufacturing partner Kore Insulation.
BaseTherm has various applications: below a concrete floor slab, below a floor screed on a concrete slab with a hardcore base, and above a suspended concrete floor – such as block and beam – with a floor screed.
The system is available in four grades, depending on thermal performance and loading requirements: BaseTherm Low Lambda, BaseTherm 150, BaseTherm 200, and BaseTherm 250.
BaseTherm has also just recently published its new EPD - a cradle to gate EPD for BaseTherm Low Lambda, BaseTherm 150, BaseTherm 200 and BaseTherm 250.
Environmental Product Declarations (EPD) are a standardised way of providing data about the environmental impacts of a product through the product life cycle.
Most importantly for designers and specifiers, EPDs have a major role to play in enabling better product choices in delivering lower carbon buildings. This EPD is available for download now on the Irish Green Building Council EPD platform, EPD Ireland.
A seamless, void-free poured floor insulation, BaseTherm is factory-produced on-site, meaning waste can be eliminated. A rapid pumped installation, BaseTherm is non-combustible, ultra-lightweight and offers acoustic benefits. The NSAI Agrément certified system boasts impressive thermal conductivities of 0.041 W/mK and is available for specification on NBS Source and as BIM digital objects.