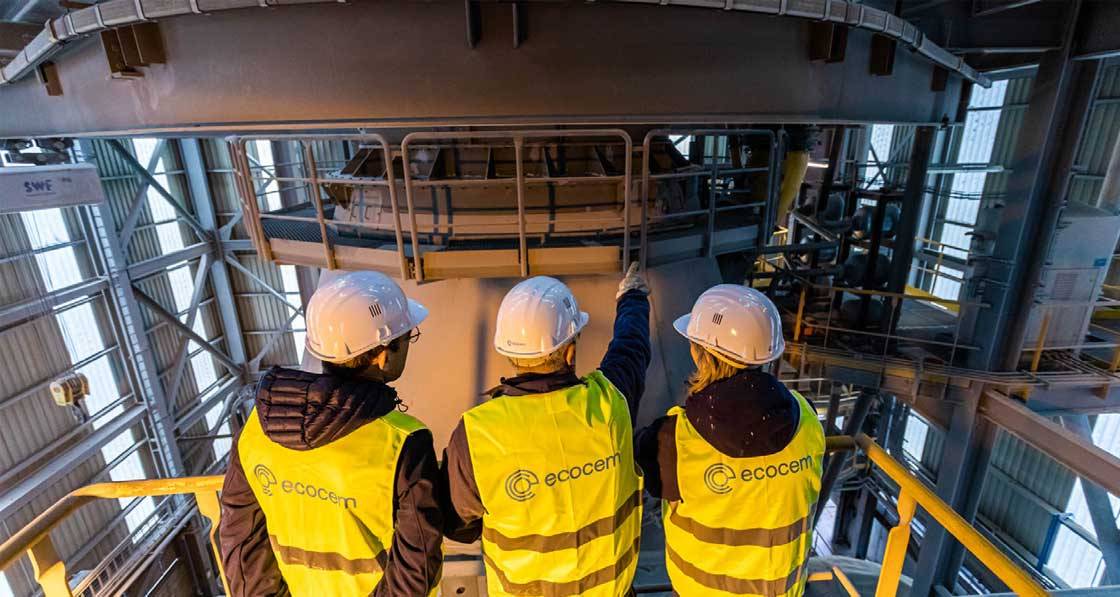 News Desk
Ecocem announces cement breakthrough to cut CO2 by 70 per cent
Ecocem, Europe's leader in low carbon cement technologies, has announced a major step in enabling the global cement industry to decarbonise on a trajectory compliant with the Paris Agreement to limit global warming to 1.5 C.
This article was originally published in issue 43 of Passive House Plus magazine. Want immediate access to all back issues and exclusive extra content? Click here to subscribe for as little as €15, or click here to receive the next issue free of charge
ACT, a breakthrough cement technology, combines a range of technical innovations with the use of widely available low carbon materials to decarbonise the production of cement by as much as 70 per cent, while enhancing the strength and durability of the concrete it is used to manufacture. Ecocem said ACT is fully scalable, can be deployed globally, rapidly and cost effectively – and can be produced within existing cement plants without significant investment or modifications.
ACT is the culmination of a decade of innovation in the scaling of sustainable, low carbon, competitive cement technologies. It has been subject to extensive technical validation and been successfully demonstrated in industrial trials. A CE mark is expected in 2023, first commercial applications will follow with full market access by 2025 in the European markets where Ecocem is present: France, UK, Benelux, and Ireland.
Ecocem founder and managing director Donal O'Riain said, "ACT is a step-change in low carbon cement technology. It is cost effective, globally scalable, and significantly decarbonising. The cement industry faces a huge immediate challenge if we are to deliver meaningful reductions in CO2 in the next decade. Technology is no longer a barrier to decarbonisation and for everyone to benefit fully and rapidly from the potential of ACT, the industry and policymakers need to work together. There has rarely been a more exciting time to be part of the industry."
"But the stakes are high," continued O'Riain. "We are eager to work closely with the cement industry and with policymakers to support the scaling and development of a new generation of low carbon cements. Current policy priorities on decarbonising cement have now been overtaken by technology. Fully effective deployment of ACT requires policymakers to provide effective support well beyond their traditional emphasis on CCUS as the core cement decarbonisation technology."
To facilitate the rapid decarbonisation of the global cement industry, Ecocem has pledged to work closely with cement producers and make the technology as widely available as possible on an economically advantageous basis. "We see the broad adoption of ACT as being essential to achieving 1.5 C compliance and look forward to working with the cement industry to make this a reality," said O'Riain. "Discussions in response to initial interest are already well advanced and we expect to make significant announcements in the near future.
The development follows a €22.5m investment in Ecocem last year by Breakthrough Energy, an umbrella organisation founded by Bill Gates to accelerate innovation in technologies to reduce greenhouse gas emissions.
Breakthrough Energy Ventures investment committee co-lead Carmichael Roberts said: "The rapid reduction of CO2 emissions from cement is a core challenge of any decarbonization strategy and COP 27 has reinforced how urgently we need scalable solutions. ACT arrives at a crucial moment and will rapidly accelerate our progress in reaching zero carbon cement."
The launch of ACT coincides with a new report that shows the urgency of finding short-term solutions to decarbonising cement. 'Cement: raising ambitions, reducing emissions', commissioned by Ecocem, highlights that cement is currently responsible for over 7 per cent of global carbon emissions – more than aviation, shipping and long-haul trucking combined. The report explores how a range of solutions to the industry's CO2 problem can drive and accelerate innovation.
However, it also points out that without industry cooperation and the deployment of new scalable solutions at speed, reaching the goal of a 50 per cent cut in emissions by 2030 is impossible.
Cement is the glue that binds concrete together, and most of the CO₂ in concrete and cement results from the production of clinker, the critical ingredient in traditional cement that is responsible for circa 95 per cent of its carbon footprint.
About one-third of clinker-related emissions come from the energy used to produce clinker. Two-thirds of clinker-related emissions are process emissions, the result of the chemical reaction that occurs when limestone (CaCO3) calcines (or decomposes) into quicklime (CaO). These process emissions result in unavoidable CO2 under intense heat. For more than 20 years, Ecocem has been developing, manufacturing, and supplying low carbon cement and construction solutions to markets in Europe. It operates from plants in France, The Netherlands and Ireland with an annual production of over 2 mt of low carbon cements.
From Le Grand Paris Express to Dublin's Aviva Stadium, and the UK's high-speed railway HS2, Ecocem has achieved a cumulative reduction to date of over 15 million tonnes of CO2 emissions. It would take over 750 million trees to capture this amount of CO2 in a year.
Other investors in Ecocem include construction materials giant Saint-Gobain Group and ArcelorMittal, the world's leading steel and mining company, which is a major shareholder in the Ecocem France subsidiary.
To read the full report, 'Cement: raising ambitions, reducing emissions', and find out more about Ecocem's groundbreaking ACT technology, please visit www.ecocemglobal.com/ACT