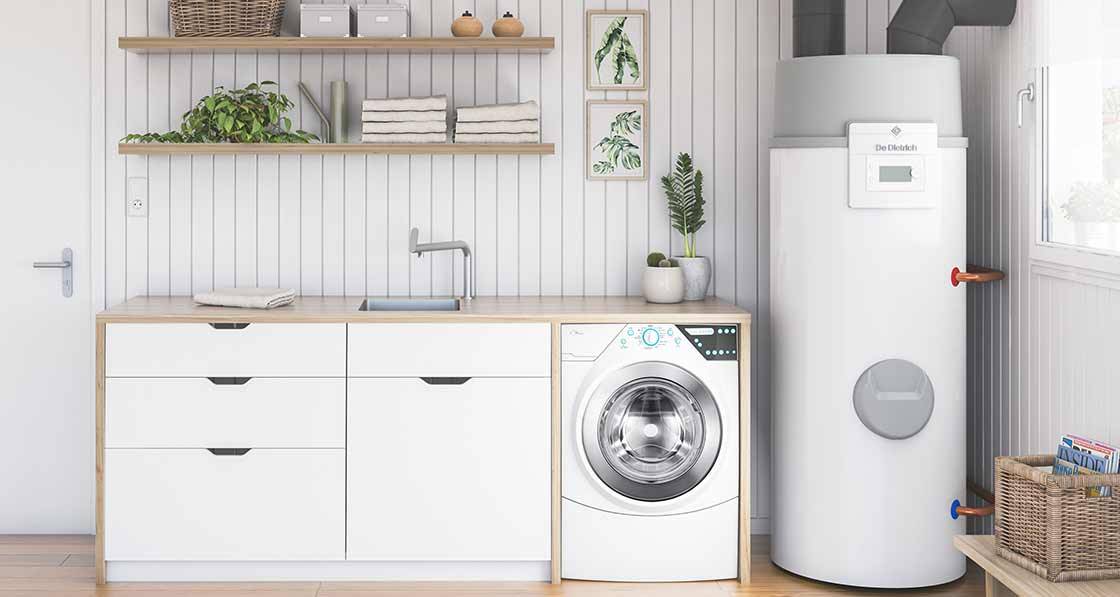 An Elensio 250H hot water heat pump, part of Hevac's new Elensio range.

News Desk
Hevac launches hot water heat pump with green refrigerant
Leading sustainable heating systems provider Hevac Group has launched the De Deitrich Elensio hot water heat pump range onto the Irish market – using a refrigerant with a risibly low global warming potential (GWP).
This article was originally published in issue 42 of Passive House Plus magazine. Want immediate access to all back issues and exclusive extra content? Click here to subscribe for as little as €15, or click here to receive the next issue free of charge
Manufactured by European heating behemoth BDR Thermea, the Elensio has been developed specifically to generate domestic hot water for dwellings – with the four units in the range achieving temperatures of 54-55C at impressive COPs of 3.09 to 3.54 when tested in line with the European standard for hot water heat pumps, EN 16147.
Origen, part of the Hevac Group, have introduced the Elensio as the latest part of the company's heat pump range. Hevac's product support & compliance manager Calin Tasnadi told Passive House Plus that the Elensio is earmarked for specific applications: apartments & a specific retrofit scenario. "The Elensio is ideal for apartments, sold in conjunction with smart radiators and heat recovery ventilation systems," he said, referencing the fact that apartments built to the NZEB standard may have little or no space heating demand, particularly in the case of mid-block mid-floor units.
"It's also ideal for retrofits where someone has replaced the boiler recently, and wants something specific to reduce energy use for hot water."
With no outdoor unit, Tasnadi stressed that the Elensio's air supply is ducted directly from outside air, with cooled air also ducted back outside. "It's not designed to interface with the ventilation system at all, meaning you're not over ventilating to make hot water," said Tasnadi, who pointed out that Hevac also offer Nuaire MVHR systems to provide ventilation while maintaining thermal comfort. The air flow to the Elensio units goes up to 380 m3/hr – a limit set to keep noise levels low.
The Elensio comes in four variations – the 200 and 250, which work off external air only, and the 200H and 250H, which work off external air but can also be connected to solar panels or a boiler. All units include an immersion as back up.
Each machine includes 0.15 kg of R290 in the refrigerant circuit. R290 has a 20-year global warming potential of just 0.072. Meaning the 0.15 kg in each Elensio is equivalent to just 11 grams of CO2 – or to put it another way less than a third of an apple, or a five-minute mobile phone call.