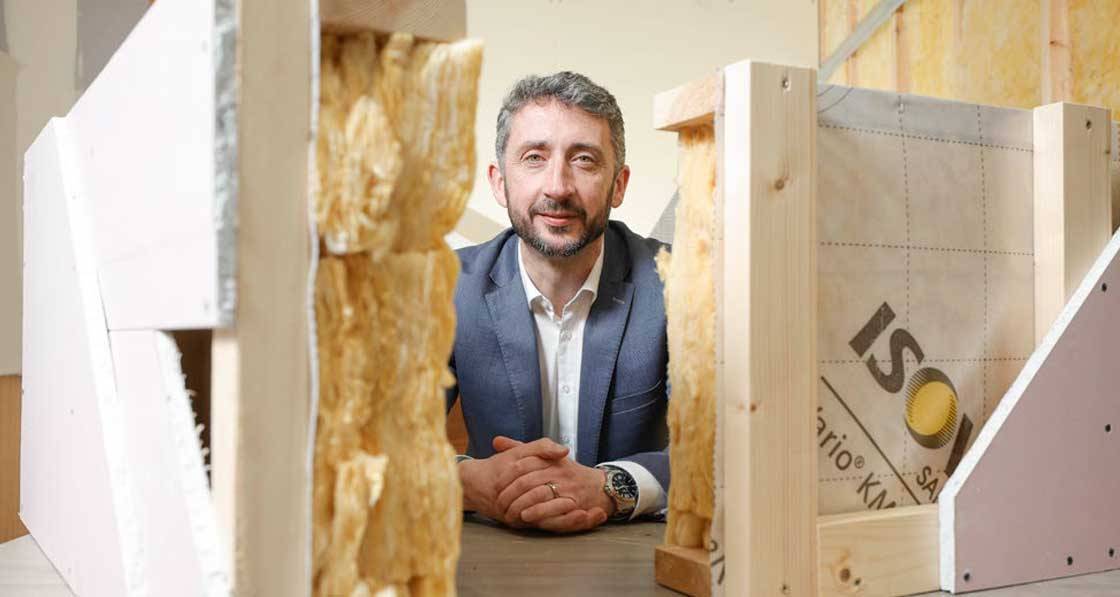 News Desk
Kieran Holohan appointed MD of Saint-Gobain Ireland
Having joined Saint-Gobain in 2007, Holohan has spent the last nine years as Saint-Gobain Ireland's marketing director. Prior to this, he held the positions of marketing manager with Moy Isover and strategy manager for Saint-Gobain Ireland.
This article was originally published in issue 44 of Passive House Plus magazine. Want immediate access to all back issues and exclusive extra content? Click here to subscribe for as little as €15, or click here to receive the next issue free of charge
During this time, he has been instrumental in the development of Saint-Gobain's Gyproc and Isover Ireland businesses and played a pivotal role in the organisation's wider success.
Throughout his career at Saint-Gobain, Holohan has been an integral part of the leadership team and has amassed extensive experience of the Irish construction market and the competitive dynamics that shape it. In his new role, Holohan will be responsible for developing and executing business strategies for the Saint-Gobain brands Gyproc and Isover in Ireland. He will oversee the company's executive team, and manage the company's business operations, as well as continuing to grow and enhance Saint-Gobain's brand profile as leaders in the Irish building materials market.
A Laois native, Holohan holds a bachelor in business studies from the Atlantic Technological University and was awarded an MBA from the South East Technological Institute in 2022.
After a career with Saint-Gobain Ireland spanning more than 16 years, Pádraig Barry will retire at the end of May.
Speaking on his appointment Kieran said: "I am delighted to be appointed managing director of Saint-Gobain Ireland. I want to thank Pádraig for the stellar work done under his leadership and the substantial contribution he has made to this organisation during his sixteen years of service."
Holohan stressed Saint-Gobain Ireland's role as a key contributor to the construction of safe and sustainable buildings in Ireland. "As a worldwide leader in light and sustainable construction, we have a key role to play in building a carbon-neutral economy in Ireland," he said. "I look forward to leading our exceptionally talented team to continued success and further growth as we play our part to ensure Irish buildings are efficient, safe, sustainable, and great places to live and work. I will dedicate myself to ensuring the growth ambitions for the organisation are realised and that we build on our strengths to deliver the best possible service to our loyal customer base."
A world leader in light and sustainable construction, Saint-Gobain designs, manufactures and distributes materials and services for the construction and industrial markets. Its integrated solutions for the renovation of public and private buildings, light construction and the decarbonisation of construction and industry are developed through a continuous innovation process and provide sustainability and performance. The group's commitment is guided by its purpose, "Making the World a Better Home". The company has pledged its commitment to achieving carbon neutrality by 2050.
Saint-Gobain's long history in Irish construction is represented through its Gyproc & Isover businesses, which combine to offer expertise in fire, energy, durability and sustainability. The company has been operating in Ireland since 1936, with operations in Kingscourt, Cavan and Magheracloone, Monaghan and headquarters in Kilcarbery, Dublin, employing over 240 people. The company is a founding member of the Irish Green Building Council and accredited by the Top Employers Association.
Last modified on Monday, 08 May 2023 11:04