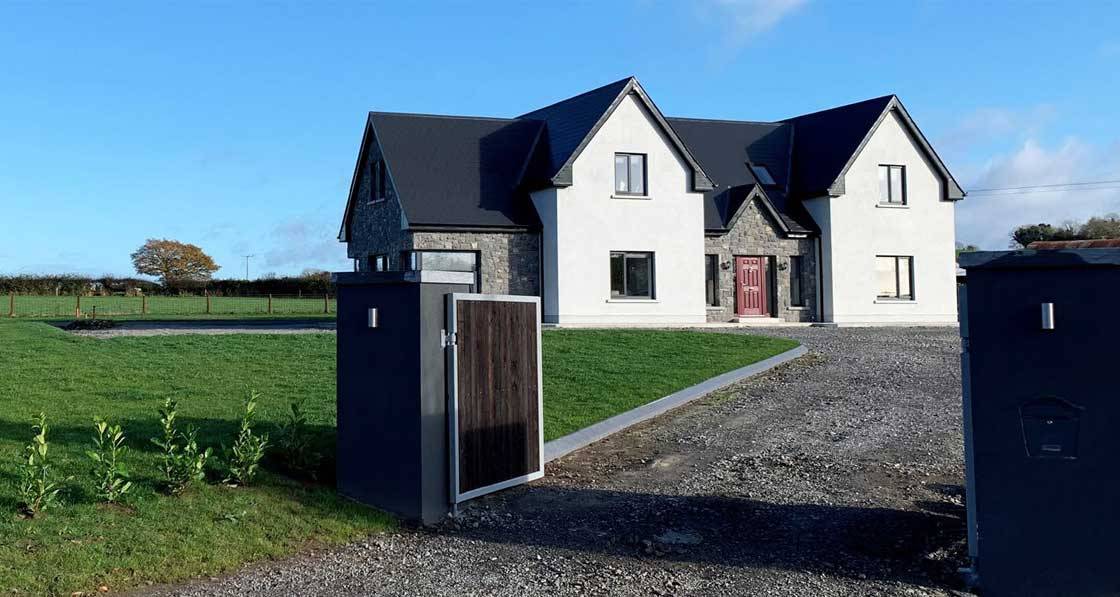 News Desk
Offaly new build installs Grant integrated heating package
Leading heating technology manufacturer Grant has sparked the interest of many self-builders throughout Ireland, with its integrated heating packages for new builds, due to the high efficiencies and substantial long-term financial and carbon savings the packages can deliver for the homeowner.
This article was originally published in issue 44 of Passive House Plus magazine. Want immediate access to all back issues and exclusive extra content? Click here to subscribe for as little as €15, or click here to receive the next issue free of charge
In recent months, the Gath family's new build home in the village of Clareen, at the foot of the Slieve Bloom Mountains in Co Offaly, has welcomed the addition of a Grant integrated heating package.
The package installed in this project features sustainable heating technologies, including a main heat source, hot water storage, heat emitters, and smart heating controls. All technologies have been carefully combined to maximise efficiencies for the 2,735 sq ft family home – and sized and specified to suit both the home and the homeowner's preferences and heating needs.
The main heat source of choice for the home was the A+++ rated Grant Aerona³ R32 10 kW air-to-water heat pump. The Grant Aerona range offers a cleaner, more environmentally friendly performance and is available in outputs of 6, 10, 13 and 17 kW. Units within the range also boast superior seasonal coefficient of performance (SCOP) even at colder temperatures, and can lower a property's overall carbon footprint, whilst helping to achieve required building standards.
The project was the first to install the new Grant Integrated Unit, a space-saving, sleek and stylish innovation installed for domestic hot water needs. The unit has been developed to work seamlessly with the Grant Aerona³, ensuring the Gath family can avail of an optimum efficiency, complete heating solution that can be relied on for many years to come.
For heat emitters, the Grant Uflex underfloor heating system has been fitted throughout the property. The system offers an efficient heating solution as it works effectively with high and low temperature heating and is perfect for those who prefer a modern and minimalistic home decor look.
Speaking about the project, homeowner Dermot Gath said, "Since installing the Grant Aerona³ R32 heat pump we have found the heating system to be very cost-effective. As a family we knew that we wanted to build a home that was heated using renewable heating technologies to ensure that it was environmentally friendly. We knew we could trust Grant to deliver what we envisaged to heat our home and so far, we are very impressed with the cost savings we are making on our heating bills and the comfort we are experiencing from our heating system."
To complete the project, the Gath family opted for Grant smart heating controls, which can be set to provide different room temperatures and different time intervals on individual heating zones, at the click of a button.
Grant works with both self-builders and those working on larger scale new build projects. To have your bespoke integrated heating package designed and specified free of charge by Grant, send your house plans to This email address is being protected from spambots. You need JavaScript enabled to view it.
All Grant products are available from plumbing and heating merchants throughout Ireland. For further information visit www.grant.eu
Last modified on Monday, 08 May 2023 10:59