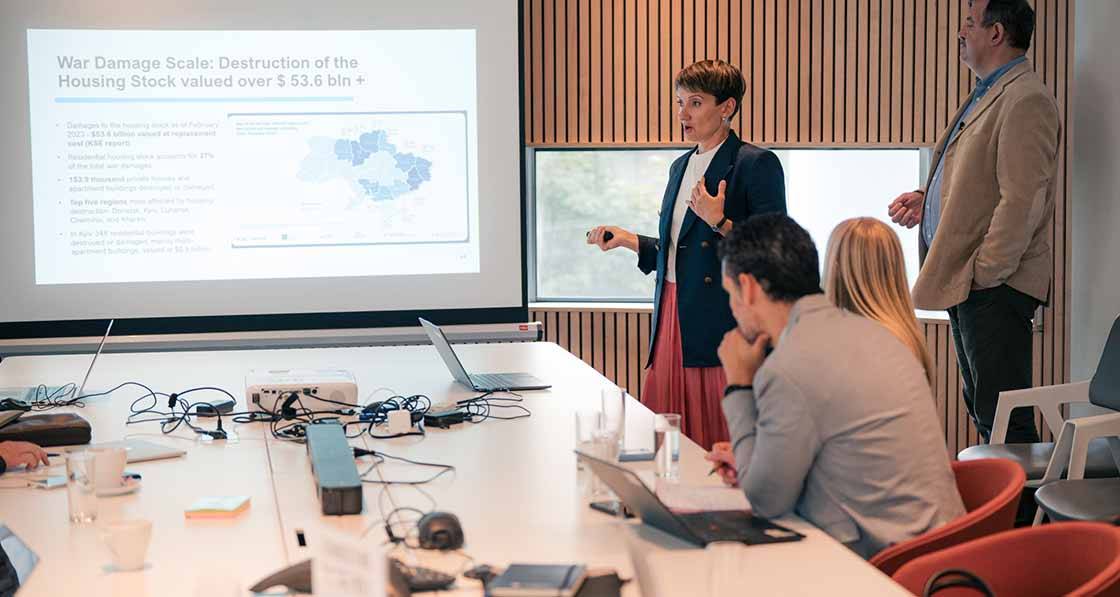 (above) Speaking at the Smarter Finance for EU kick-off meeting in Brussels on 19 June, European-Ukrainian Energy Agency director Kateryna Polyakova describes the rebuilding challenge Ukraine will face when the war ends.

News Desk
EU project aims to accelerate market for green homes
A new European project focussed on accelerating the roll-out of certified green homes – including the development of green mortgages, loans and development finance – has been launched.
This article was originally published in issue 45 of Passive House Plus magazine. Want immediate access to all back issues and exclusive extra content? Click here to subscribe for as little as €15, or click here to receive the next issue free of charge
Irish partners in the Smarter Finance for EU project, which is led by the Romania Green Building Council, include the Irish Green Building Council and Passive House Plus publisher Temple Media Ltd, along with partners in Spain, Portugal, Ukraine, Slovakia and Luxembourg.
The EU Life-funded project builds on the success of the Smarter Finance for Families project, which has led to over €8.5bn worth of certified green homes being built or planned to date. This includes over €600m worth of new homes under development in Ireland to the IGBC's Home Performance Index certification, financed by AIB at reduced interest rates over the last twelve months.
All in all, Smarter Finance for Families led to the creation of programmes for green home and green mortgages in 11 countries, and the new Smarter Finance for EU project has been designed to build on this early success, to accelerate the transition to verified green homes and tailored finance – both within the markets where programmes have already started, and in new partners in Spain and Portugal, along with a focus on the postwar rebuilding of Ukraine.
With energy poverty on the rise across Europe since the energy crisis caused by Russia's invasion of Ukraine, the project also includes a work package on hybrid green finance tools for vulnerable citizens, led by Habitat for Humanity.
The aim will be to improve the health and comfort, financial stability, and energy performance of very low income, vulnerable households. It will also facilitate European and global discussions on what knowledge and lessons learned can be shared when implementing solutions that combine government incentives with private bank financing. The intent is to demonstrate that energy poverty solutions are "bankable" by private sector banks, provided they are supported with well-designed, hybrid solutions – such as a mixture of private finance and state subsidy – and that the banks are supported with an easy-to-use method of measuring energy efficiency and green performance.
One major undertaking included in the project is the establishment of a European centre of excellence, which is being set up to mine, expand upon and share the knowledge gained from developing successful programmes in Smarter Finance for Families, for two purposes: to ensure potential implementing partners don't have to "reinvent the wheel", and to give existing partners in the Smarter initiative the opportunity to improve the uptake of their green home programmes.
One issue that threatens to undermine public and investor confidence in green buildings is the lack of clarity – and in some cases credibility – to sustainability claims in the construction industry, including at building level. To this end the IGBC will focus on ensuring programmes from new partners - and those of existing implementing partners – are aligned with a number of EU policies, including the Level(s) sustainable buildings framework, the forthcoming recast to the Energy Performance of Buildings Directive, the EU Taxonomy, Fit for 55, and other critical EU initiatives. This will also involve ensuring strong governance principles and auditing practices so stakeholders can rely upon a trusted impartial green finance program to deliver for Europe's citizens.
Meanwhile, the project will focus on providing training and guidance to build the capacity of essential stakeholders, including citizens, property developers, lenders and green homes solution providers (in other words the supply chain offering the products and services needed to build green homes). Luxembourg-based sustainable finance facilitators EnerSave Capital will lead this work, which will also include specialized training for the financial services sector.
In addition to providing a portal of the businesses who provide products and services that can be used on green buildings, Temple Media Ltd's main role in the project will centre around communication, including publishing news on progress in the project, and working out how to ensure that the approach taken to communications takes into account the needs of different stakeholder types in different local markets, and how to establish the best ways of reaching people with different needs and perspectives.
Co-ordinated by the Romania Green Building Council, the partners include Irish Green Building Council, Luxembourg-based sustainable finance facilitator EnerSave Capital, Passive House Plus publishers Temple Media Ltd, the Association Energy-Efficient Cities of Ukraine, Green Building Council España, Portuguese energy agency Adene, Habitat for Humanity International, and the European-Ukrainian Energy Agency.