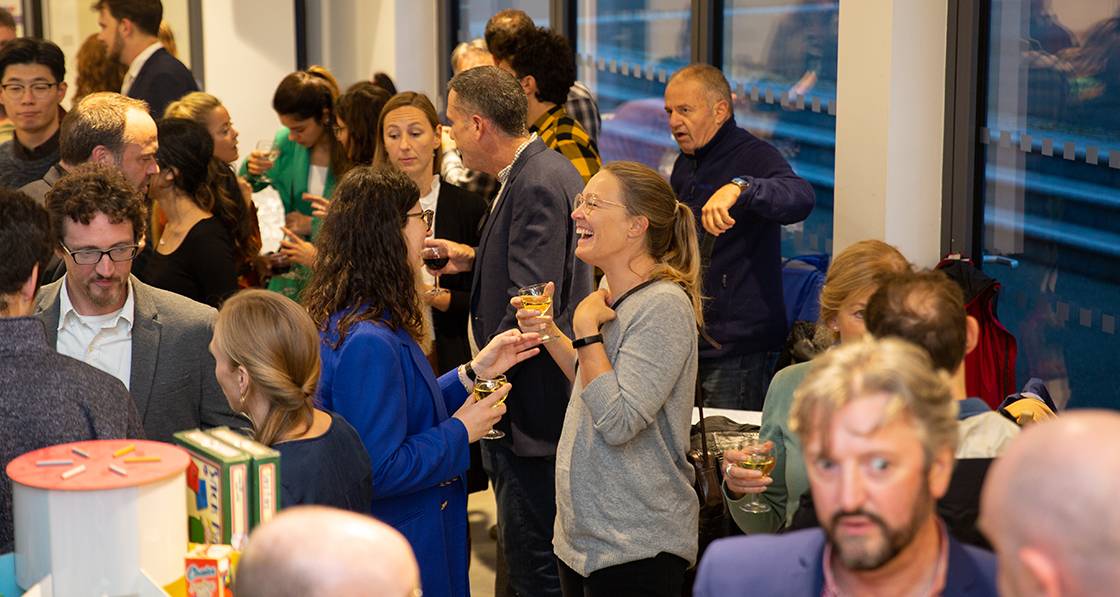 News Desk
Enniskillen passive house camp attracts international audience
The passive house camp recently took place from 26-29 September at South West College's passive house premium-certified Erne Campus and the Centre for Renewable Energy and Sustainable Technologies (CREST).
This article was originally published in issue 43 of Passive House Plus magazine. Want immediate access to all back issues and exclusive extra content? Click here to subscribe for as little as €15, or click here to receive the next issue free of charge
The camp provided International Passive House Association affiliates and Passive House Institute-accredited course providers and building certifiers an opportunity to network, exchange and gain insight into passive house developments worldwide. The camp brought passive house community leaders together for the first annual strategic meetings to take place in person since the pandemic.
After two years of digital events, the International Passive House Association (iPHA) was excited to organise the passive house camp together with partners South West College, the Passive House Institute (PHI) and the Passive House Association of Ireland (PHAI). Over 50 international partners travelled to Enniskillen, Northern Ireland, for stakeholder meetings, workshops, excursions and networking events.
The first day focused on iPHA affiliates, which are partner organisations that work to spread awareness and implementation of the passive house standard in their respective regions. Participants shared their experiences under the session motto "Best practices for passive house associations" and made strategic preparations for 2023 during the annual iPHA affiliate council meeting.
Participants enjoyed excursions to innovative and exciting passive house buildings in Northern Ireland throughout the camp. This included Erne Campus, the world's largest certified passive house premium educational building. Participants could also visit Lancaster Park in Belfast, the first developer- led passive house scheme in Northern Ireland, which will span 219 houses across 26 acres once complete, or SoLow house, a prefabricated, low embodied energy family home combining passive house methodology with volumetric off-site construction to cost-effectively meet the current and future needs of the residential building sector.
The camp also included a tour of the CREST centre, a certified passive house building and an exciting venture built to help small businesses develop and adopt renewable energy and sustainable technologies. The centre features a passive house lab, where participants could evaluate and explore the practical passive house teaching facilities. Later, participants visited PHAI chair Barry McCarron's house. His family are currently retrofitting a bungalow to the Enerphit standard. Visitors viewed the home mid-project and saw the design concept coupled with all the various techniques and systems employed to achieve the Enerphit standard in this common Irish building typology.
The camp featured social events hosted by the Fermanagh and Omagh District Council, including a special event highlighting this year's "Celebrating passive house education" anniversary. The council played a vital role in delivering the camp and South West College's "Sustainable Future Conference", which took place in parallel. It featured 30 acclaimed industry speakers, including passive house talks by Exeter City Living MD Emma Osmundsen, and Scott Foster, former director of the Sustainable Energy Division at the United Nations Economic Council for Europe.
Wednesday saw camp participants come together for a joint workshop to discuss local pathways to improve cooperation and engagement between the stakeholder groups. The event was a success, with productive talks to expand collaboration between affiliates, passive house course providers, accredited building certifiers and further stakeholders, including PHPP resellers and component manufacturers.
On the final day of camp, some of the fitness-oriented participants got up before dawn to complete the Stairway to Heaven mountain trail, which offers spectacular sunrise views. Those who preferred to sleep in joined them later for the annual building certifier and course provider meetings, which provided the groups with an opportunity to exchange best practices and work on solutions to meet the needs of the growing passive house market. The passive house camp also included a certifier course, where new passive house certifiers are trained to meet this increasing demand.
Giorgia Tzar of iPHA said: "The camp brought iPHA and PHI partners together to work on solutions for the year ahead. It was fantastic to catch up in person again after two years of digital events. I think we all got a boost of motivation from meeting like-minded individuals passionate about improving sustainability in the design and construction industry. The joint workshop attended by iPHA affiliates, course providers and building certifiers was a high point. Also, providing participants opportunities to explore the region, with networking events and a varied cultural programme included in the schedule, made for an immersive and exciting week in Enniskillen."
"The current energy crisis highlights the urgency to end our dependency on fossil fuels," Tzar added. "Passive house is a proven pathway to highly energy-efficient buildings that achieve meaningful energy savings! We thank our partners for making this camp and collaboration possible and look forward to seeing everyone at the 26th International Passive House Conference in Wiesbaden, 10-12 March 2023, under the motto Efficiency NOW!"