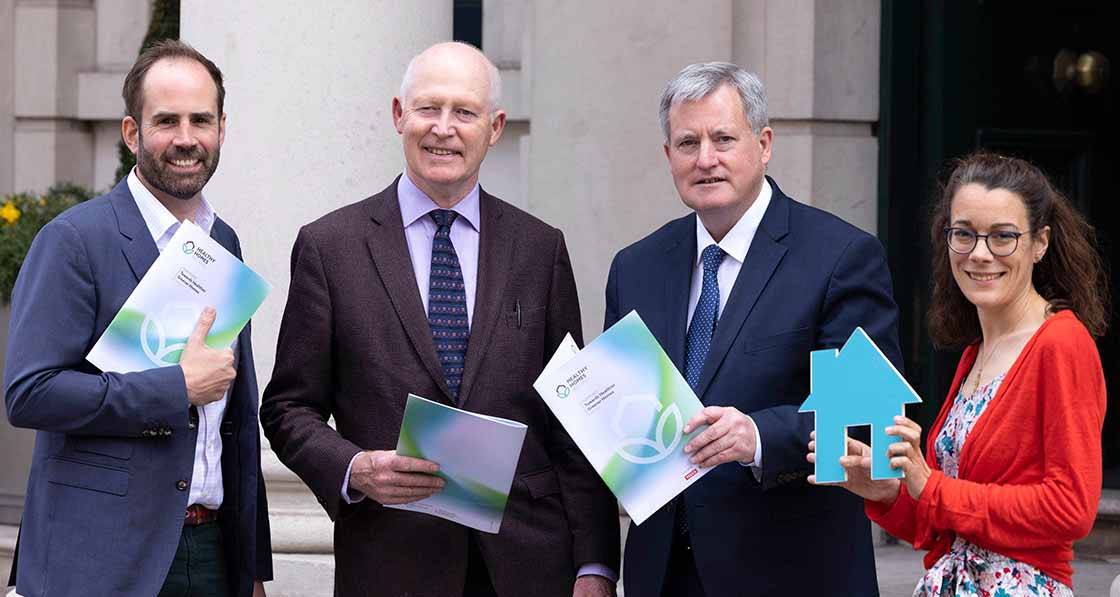 Pictured are (l-r) Velux GB & Ireland public affairs manager Neil Freshwater; Healthy Homes Ireland chair Kevin O'Rourke; minister of state Kieran O'Donnell TD and IGBC head of policy Marion Jammet.
Kevin O'Rourke
Healthy Homes Ireland launches indoor environmental quality report
Healthy Homes Ireland (HHI) has published a series of recommendations for the improvement of indoor environmental quality (IEQ), including the creation of a cross-disciplinary national leadership body that will advocate for change and set goals.
Words by Kevin O'Rourke, chair, Healthy Homes Ireland.
This article was originally published in issue 45 of Passive House Plus magazine. Want immediate access to all back issues and exclusive extra content? Click here to subscribe for as little as €15, or click here to receive the next issue free of charge
The recommendations, set out in 'Our Place: Towards Healthier, Greener Homes', are the culmination of work undertaken by the HHI initiative, a high-level group of industry practitioners and academics that was established in 2021 to address health problems caused by low-quality homes. HHI is supported by Velux and the Irish Green Building Council.
The report also calls for a strengthening of building regulations and their enforcement, more grant funding and action to bridge the skills gap in the building industry, plus greater empowerment of building occupants.
The government target to retrofit 500,000 homes by the end of the decade represents a major opportunity to improve IEQ in existing homes. We therefore took the opportunity to present our report and its recommendations to Kieran O'Donnell, the Minister of State at the Department of Housing, Local Government & Heritage, plus several cross-party representatives and key stakeholders on 1 June.
HHI commissioned real estate services and investment firm CBRE Ireland to gather evidence from academics, specialists in public health medicine, consultants, local authorities, developers, builders, approved housing bodies and industry groups. Their findings form the basis of the policy recommendations at the heart of the report.
In many cases the recommendations support or propose reinforcing existing government policies, such as increasing energy efficiency through retrofitting, addressing energy poverty and upskilling the construction industry. We prioritised actions that are likely to have the highest impact and to be easiest to implement, starting with the creation of a national cross-disciplinary body to provide leadership and promote action for healthier housing in Ireland.
We think the body should include representatives from the Department of Health, Health Service Executive, Department of Environment, Climate and Communications, Sustainable Energy Authority of Ireland, Department of Social Protection, Department of Housing, Local Government and Heritage, The Housing Agency, Health & Safety Authority, local authorities, approved housing bodies, building trade and professional bodies, training bodies, occupant and consumer representatives, building owner representatives and leading research centres in universities.
Education and upskilling are also priorities. It is recommended that education on best practice IEQ is delivered as part of the government's targets for upskilling in the housing industry. More specifically, it is envisaged that IEQ skills should be embedded in apprenticeships and third-level education and that building professionals and construction trades are incentivised to acquire IEQ skills.
Those that have been trained in energy upgrades and best practice IEQ will qualify for inclusion on a national register.
Empowering occupants
Occupant empowerment is another key issue. We recommend that the government provides additional funding and support to improve tenant representation, develops a process for swift interventions for occupants when unhealthy housing poses an immediate and serious health risk and establishes an ombudsperson for local authority and approved housing bodies (AHB) tenant redress. We also think there is a need for a public awareness campaign on the impact of housing on health and how to run an energy efficient and healthy home.
HHI also highlights the need for tenant safeguards to be updated and better enforced. We believe that the minimum standards in rented accommodations [set out in SI 137 of 2019] should be updated to include specific performance requirements based on IEQ best-practice standards, and that the government needs to support local authorities with enforcing the standards or find an alternative mechanism for inspections, such as estate agents.
To date, the focus of the grants has been on energy efficiency, however we firmly believe that energy efficiency and IEQ should be considered together, so that works under energy retrofit grants schemes are designed to ensure positive IEQ outcomes along with energy use reduction.
Finally, to help deliver healthy homes, more data is required on the scale of the issue and the potential benefits of improving housing. We recommend that a comprehensive national study on the impact of housing conditions on health in Ireland is urgently required. It should investigate the link between poor housing and public health expenditure and social impact. More broadly, the report also addresses links between housing and health, including a review of the literature on the impact of IEQ on health. It takes stock of the housing sector in Ireland, focusing on supply issues and housing standards in the rental sector and completes the picture with a survey of the relevant policy landscape, both national and EU.
HHI commissioned the report to create a more integrated, forward-thinking approach to healthier homes. It aims to spearhead the integration of health considerations into public policy and delivery of both newbuild and retrofit homes, in their planning, design, construction as well as householder operation. It marks a beginning rather than an end.
To download the Our Place: Towards Healthier, Greener Homes report visit https://tinyurl.com/HHIreport