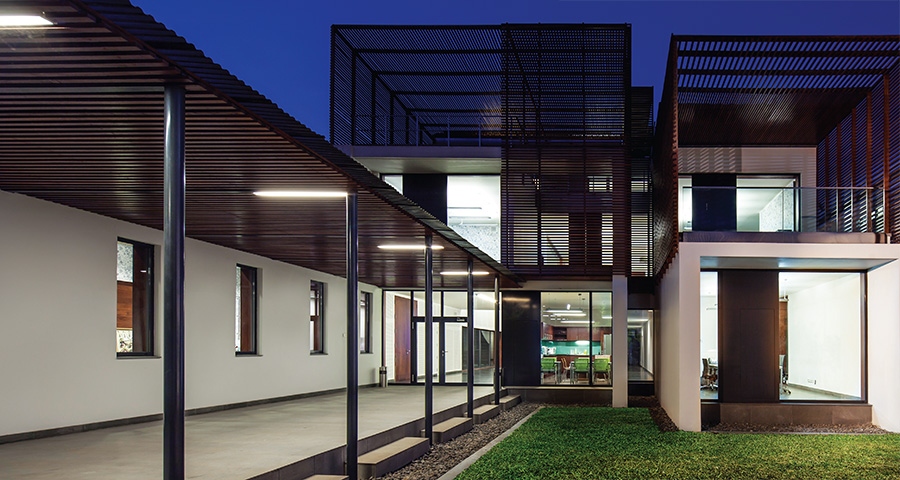 International selection - issue 12
This issue's international selection features an embassy in Indonesia, an educational building in South Korea, an experimental solar-powered house in France, and social housing in Philadelphia.
Austrian embassy, Jakarta, Indonesia
Photos: Jucko Prawito / Austrian Embassy Jakarta & Timothy / Austrian Embassy Jakarta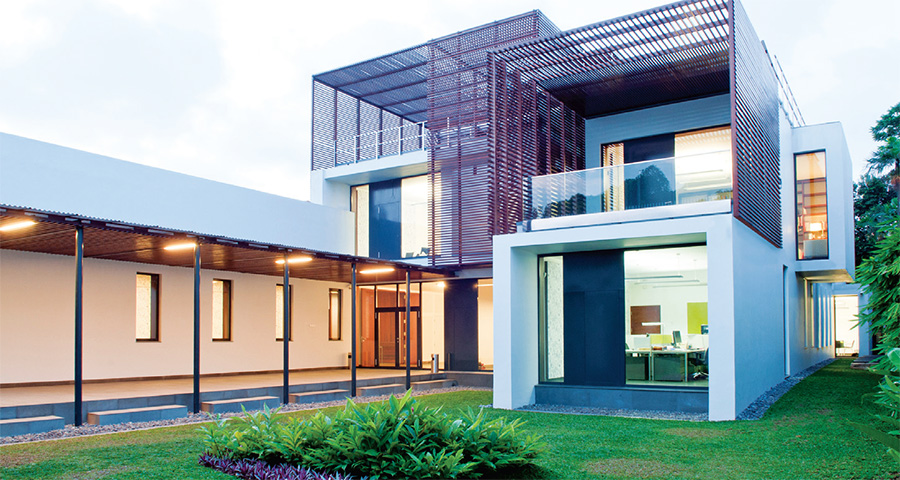 The new three-storey Austrian embassy in Jakarta, located among the traditional villalike buildings of the city's Mentend district, was designed by POS Sustainable Architecture to fit neatly into the neighbourhood while embracing contemporary sustainable design. To this end, the front entrance makes extensive use of bamboo, there is an emphasis on local and natural materials like stone and timber, and fabrics on the internal walls echo Indonesia's rich textile tradition.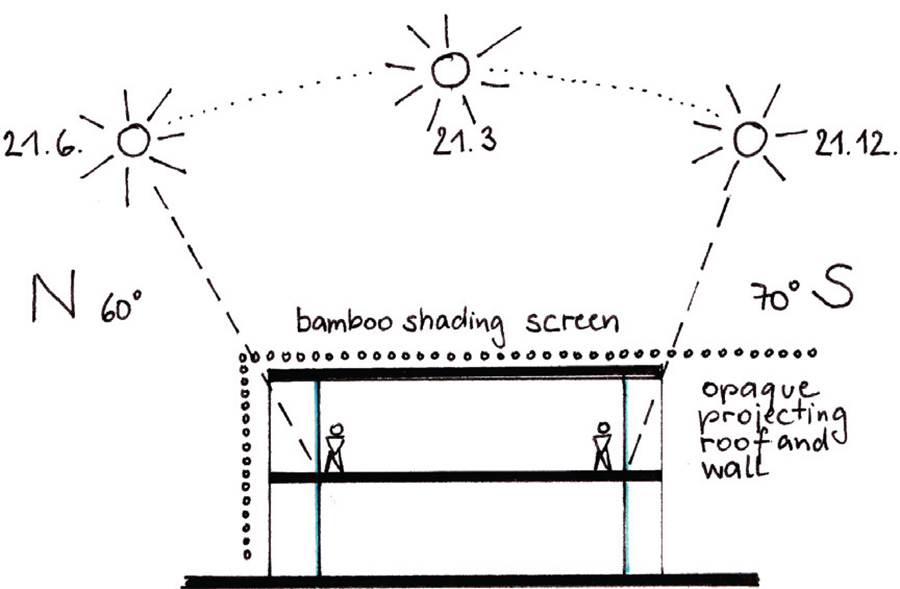 The cavity-wall building is home to ten offices plus meeting rooms, a conference room, garden terraces and green spaces. In such a hot climate, the embassy only needed double glazing to meet the passive house standard, though careful condensation risk analysis was required. The embassy achieved a final airtightness figure of 0.4 air changes per hour, crucial for mitigating the entry of humid air into the building fabric.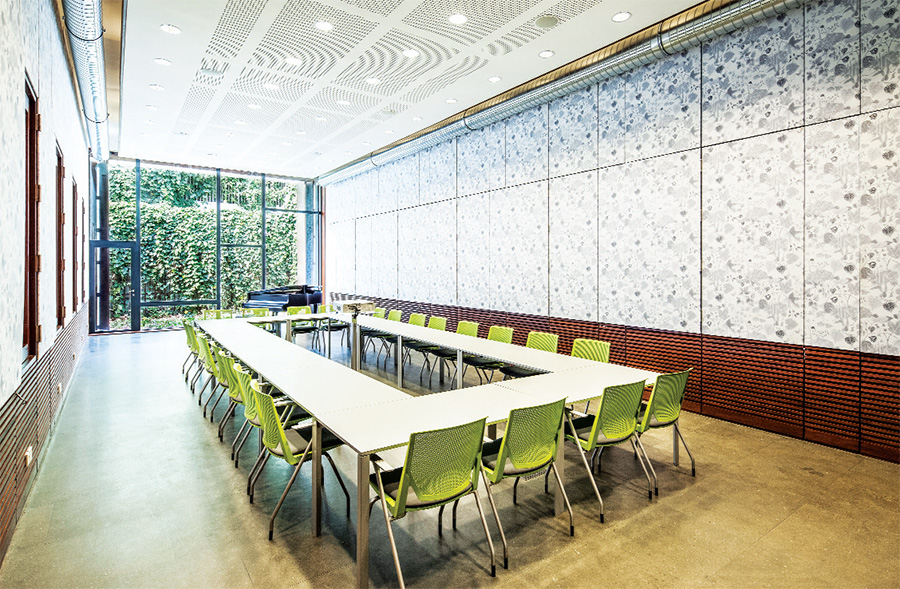 The embassy's cooling load is provided by concrete core temperature control, or CCTC — pipework that is incorporated in the building's concrete structure. Average indoor conditions of 25C, 60% humidity and a constant supply of fresh air from the heat recovery ventilation system create a healthy indoor space for the building's occupants. Meanwhile the building is expected to use 85% less energy than a typical Jakarta office, while 96 square metres of solar photovoltaic panels cover almost one quarter of its electrical demand.
Lohas Academy, Goesan, South Korea
Photos: Vallentin Architektur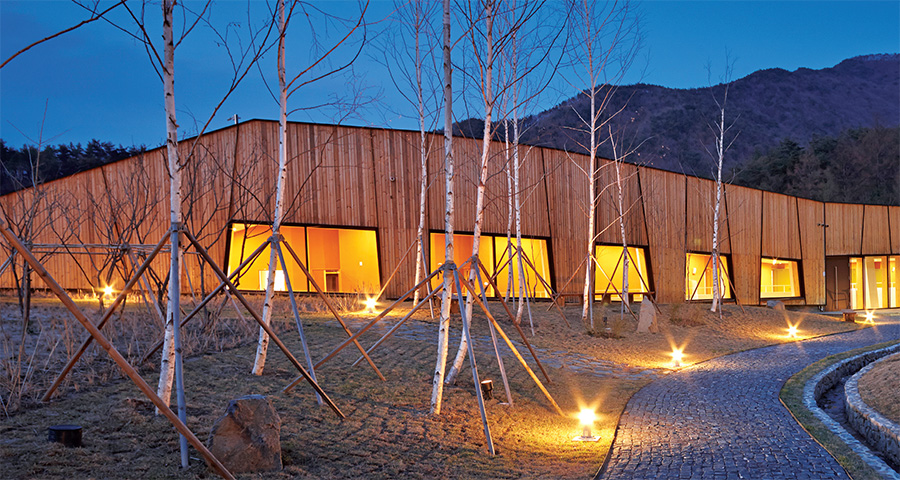 This passive-certified extension to the Lohas Academy is located on the edge of a nature reserve outside Seoul, amid rice paddies, woods and rolling hills. The client, Pulmuone, is Korea's largest producer of health food products, and the academy serves as an educational centre for the company to teach young people about nutrition and sustainable food production.
Designed by German architects Rena and Gernot Vallentine, the centre features classrooms and kitchens, guest apartments and open plan common spaces. The building modulates its shape along the rounded hills behind it, and opens up towards the adjacent valley. The main link between nature and architecture is the accessible roof garden, designed to fit naturally into the surrounding landscape, while all parts of the building are designed to provide easy access to the outdoors.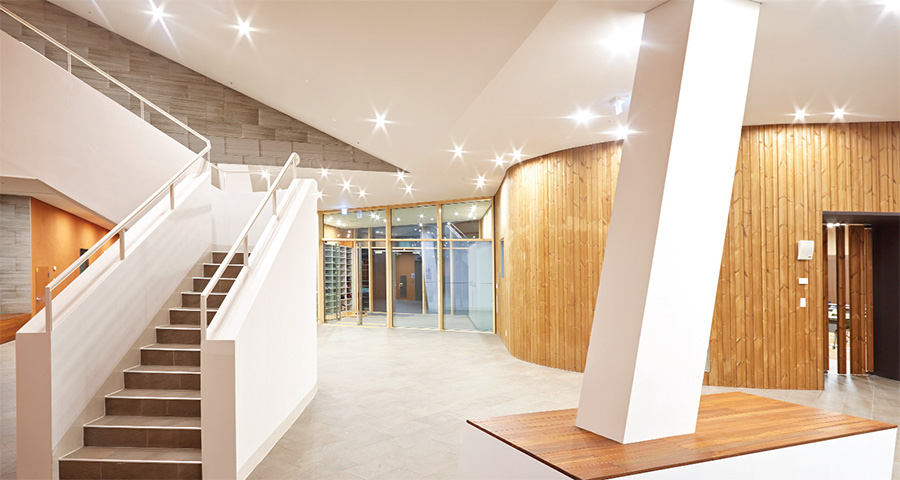 The building's walls and roof were built with reinforced concrete that's insulated with cellulose, while the walls feature a ventilated timber facade. The building scored excellent airtightness of just 0.17 air changes per hour. Meanwhile all rooms are equipped with underfloor heating — important because Koreans normally sit, eat and sleep on the floor.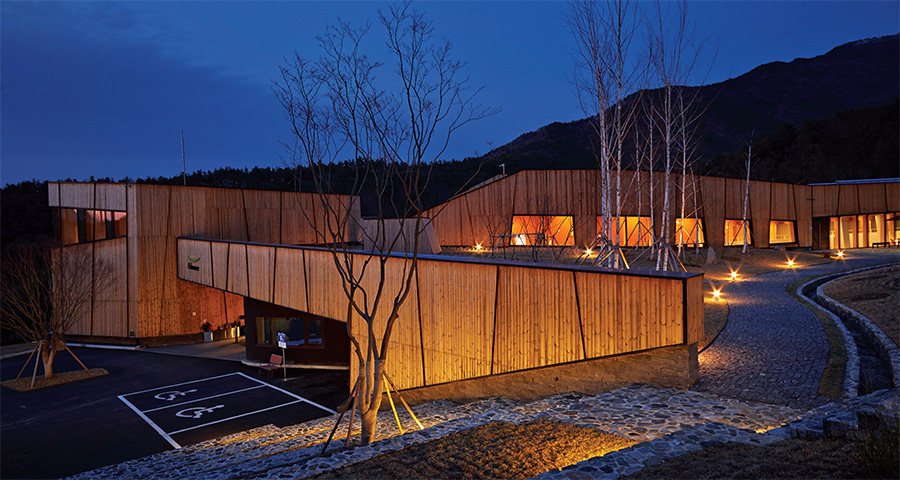 While the cold and snowy winter in Korea is quite comparable to that of central Europe, the summer is hot and humid. In summer mode, the underfloor heating uses cold water to provide cooling, while there is an additional ceiling-based cooling system in some of the larger rooms. A de-humidification module in the ventilation systems also pre-cools incoming air during the warmer months.
Techstyle Haus, Lessac, France
Photos: Techstyle Haus © Domaine de Boisbuchet, photo Julia Hasse 2015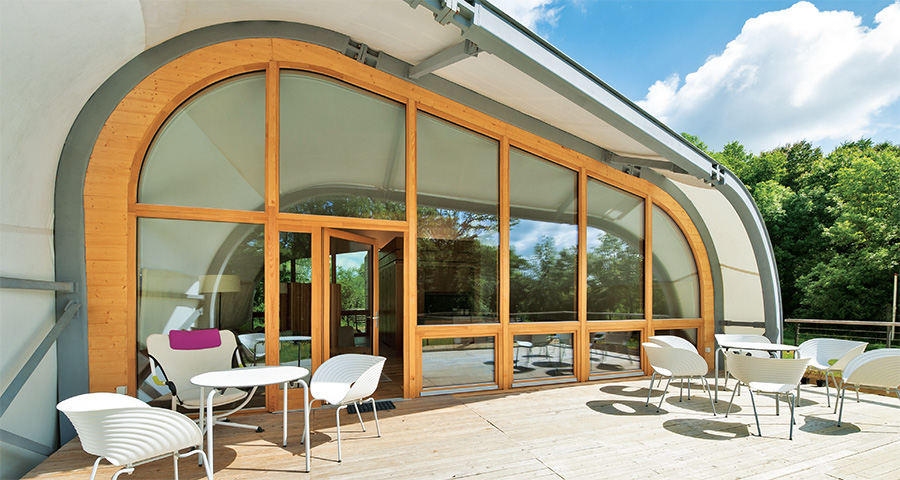 The challenge for this project's designers was daunting: create a highly efficient solar-powered house from scratch, build it with materials that have never been used before in residential construction, then get the whole thing to France for an international competition.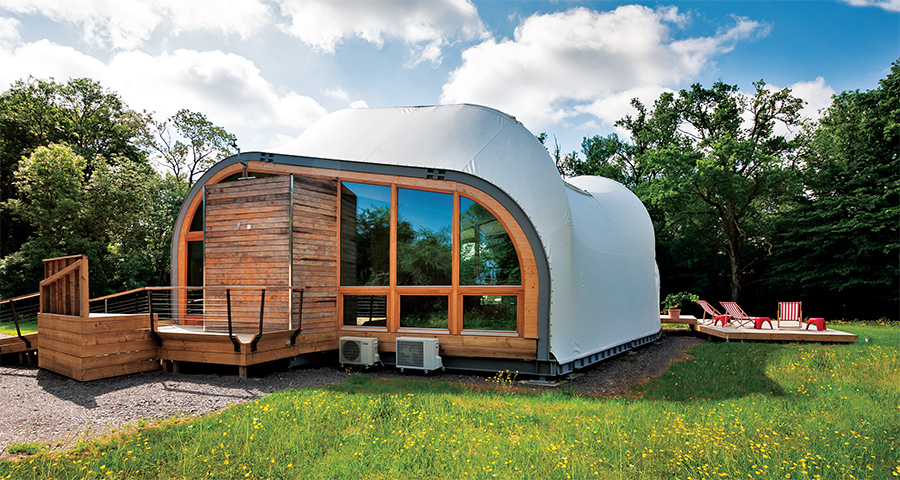 Techstyle Haus is a self-sustaining solar home built by students from Rhode Island School of Design, Brown University and University of Applied Sciences Erfurt in Germany for the 2014 Solar Decathlon Europe. The competition challenged 20 university teams from all over the world to build efficient, comfortable and sustainable solar homes. Techstyle Haus's gracefully curved exterior shell is made from a flexible textile material supported by steel structural ribs. The material, Sheerfill II architectural membrane (a fibreglass membrane coated in teflon), is generally used on the roofs of domed sports stadiums and airplane hangers, but has apparently never before been used in residential construction. The textile walls were insulated with mineral wool, and also feature Isover Vario vapour membranes and Saint-Gobain triple-glazed windows.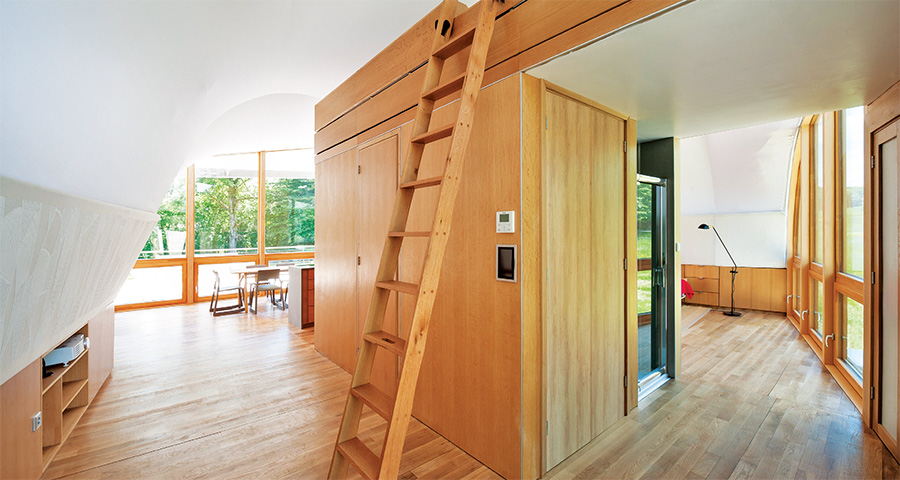 When the outside temperature rises, phasechange materials in the house's mechanical core change from solid to liquid, trapping unwanted heat in the process. When the temperature cools, the materials solidify, releasing that trapped heat to keep the house warm. The house features air-to-water Viessmann and Daikin heat pumps for heating and cooling, Viessmann heat recovery ventilation, 24 square metres of electricity-producing solar PV and six square metres of solar thermal collectors for hot water. Meanwhile, greywater from sinks, showers and appliances is filtered and recycled to irrigate the gardens outside.
Techstyle Haus finished third in the 'comfort conditions' category of the Solar Decathlon, and came 14th overall. Built to the passive house standard, it hits key targets for space heating demand (13.3 kWh/m2/yr) and airtightness (0.6 air changes per hour). The building now provides student accommodation at Domaine de Boisbuchet, a centre of art, architecture and design in west central France.
Belfield Homes, Philadelphia, USA
Photos: Sam Oberter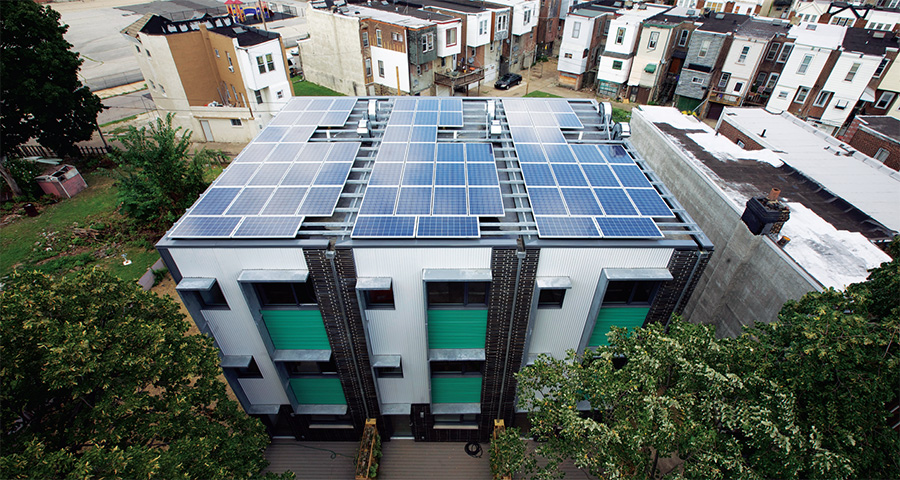 Design and build firm Onion Flats wasn't even asked to meet the passive house standard for this residential social housing project in Philadelphia, which was completed in 2012 — only to build it on time and on budget. But the firm saw it as an opportunity to show that sustainable housing needn't cost more than standard construction. The team was also keen to develop a system of building passive house that could be easily copied and scaled up in future.

The development features three homes built for formerly homeless families. The building is of modular timber frame construction, insulated with cellulose and PIR board. Tripleglazed windows from Irish manufacturer Munster Joinery sit flush with the airtightness membrane to create a simple airtight seal.
These were the first passive house certified homes in Philadelphia, with a space heating demand of 14kWh/m2/yr and airtightness of 0.4 air changes per hour. But surprisingly, Onion Flats found that in one month (February 2013) energy bills for the three units varied between $72 and $226. How to explain this huge difference?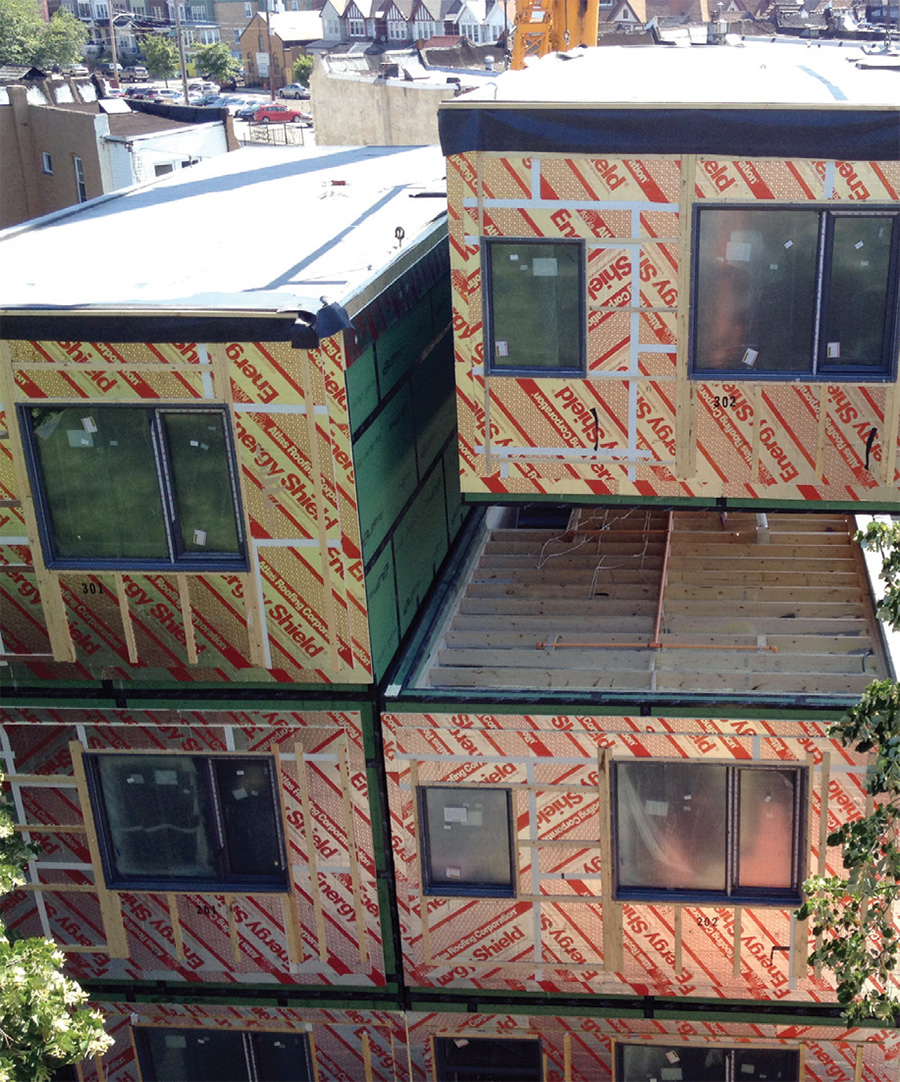 It turns out the that the home with the highest bill was doing, on average, 104 loads of laundry in 30 days — essentially it had become an ad hoc laundrette for the tenant's friends and family (the non-profit that manages the building doesn't charge tenants for electricity).
But when electricity produced by the rooftop PV panels are factored in, bills average between $32 and $93 per month for all utilities.
Image gallery
Passive House Plus digital subscribers can view an exclusive image gallery for this article. Click here to view